Ghosts of the Deep Dungeon
ETA 1-2 hours
✦ 1790+ Power required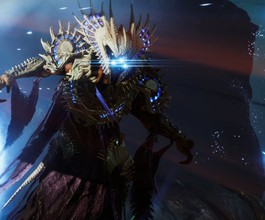 533 completed
Rewards
Weapons
You have a chance to get these weapons during the dungeon:
Armor
You have a chance to get these armor sets during the dungeon:
Taking King Suit (Titan/Hunter/Warlock)
The Master version of the dungeon has the same loot pool but all armor obtained from encounters is Artifice armor
Note: Artifice Armor in Destiny 2 is high-quality armor with an additional mod slot providing a free +3 stat mod of your choosing. If you are looking for Artifice armor farming then please use our Master Ghosts of the Deep Armor Farm service.
Description
Complete the Ghosts of the Deep dungeon with CarrySquad. Our expert team is ready to guide you through this challenging dungeon, providing step-by-step strategies and tactical advice to conquer each encounter.
Wonderful as always! Never disappoints!
Volkov provided quick service and great communication!
Wonderful and quick work as always!
AS always, fast and reliable
Sionex7 is a master! Always does a great job!!!
Frostt was a big help came in clutch
Excellent job. Fast completion.
How does the service work
Once you place your order, you will be redirected to your personal Service Dashboard and receive a notification link to your email
Your CarryAssistant chatbot will assign an available booster who suits best for your order within minutes, literally
Booster will join your Dashboard chat and from now on you are in safe hands
No waiting and unnecessary chatting with managers, unless you have any questions
When the order will be finished, you CarryAssistant will notify you immediately via your Dashboard and an email
If you choose Self-Play option, your booster will plan the service according to your time schedule
We don't use any programs or cheats during boosts. All services are done by hands
Requirements
1790+ Power Level for Normal version.
1815+ Power Level for Master version.
If your character has a lower Power Level please use our fast Power Leveling service
If you have questions
Feel free to ask any questions in our chat. We are glad to help you, and our Squad will always find you the best service and the deadliest gun for your Guardian!