ETA 1-2 hours
✦ 1790+ Power required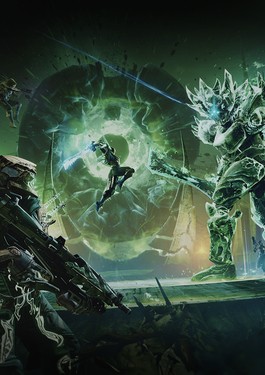 410 completed
Rewards
First Encounter: Enter the Abyss
Fang of Ir Yût: Strand Scout Rifle
Song of Ir Yût: Arc LMG
Abyss Defiant: Solar Auto Rifle
Armor:
Second Encounter: Cross the Bridge
Fang of Ir Yût: Strand Scout Rifle
Swordbreaker: Strand Shotgun
Oversoul Edict: Arc Pulse Rifle
Armor:
Third Encounter: Ir Yût the Deathsinger
Oversoul Edict: Arc Pulse Rifle
Song of Ir Yût: Arc LMG
Word of Crota: Void Hand Cannon
Armor:
Final Encounter: Crota, Son of Oryx
Word of Crota: Void Hand Cannon

Swordbreaker: Strand Shotgun

Abyss Defiant: Solar Auto Rifle

Armor:
Optional
Random chance to get 1 Essence of Oversoul per encounter for Necrochasm Exotic
2 Hidden Chests
You can get:

Random piece of armor or weapon you've already received from the raid
Raid Armor mod
5 Spoils of Conquest per chest
Weekly Challenge
Additional weapon or armor from the challenge encouter
Weekly Puzzle Bonus Chest (once per account, per week)
Bonus puzzle chest from the Crota encounter always drops a red border (deepsight) weapon. Including those not already in your collection
Description
Crota's End Raid with CarrySquad. Our expert team is ready to guide you through this challenging raid, providing step-by-step strategies and tactical advice to conquer each encounter.
Loved the attitude and willingness to help out
XHimuraKenshin always gets the job done perfectly
Service is great as always with these guys
How does the service work
Once you place your order, you will be redirected to your personal Service Dashboard and receive a notification link to your email
Your CarryAssistant chatbot will assign an available booster who suits best for your order within minutes, literally
Booster will join your Dashboard chat and from now on you are in safe hands
No waiting and unnecessary chatting with managers, unless you have any questions
When the order will be finished, you CarryAssistant will notify you immediately via your Dashboard and an email
If you choose Self-Play option, your booster will plan the service according to your time schedule
We don't use any programs or cheats during boosts. All services are done by hands
Requirements
-1790+ Power Level. If your character has a lower Power Level please use our fast Power Leveling service
If you have questions
Feel free to ask any questions in our chat. We are glad to help you, and our Squad will always find you the best service and the deadliest gun for your Guardian!