Access to the Tangled Shore required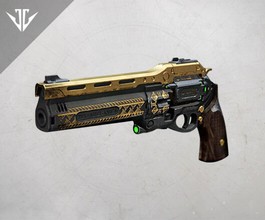 237 completed
Rewards
The Last Word Exotic Hand Cannon
Description
An incredibly powerful close- to mid-range hand cannon, dealing more damage than 180-RPM models at a higher rate of fire. It's also one of the most unique Exotics around. This weapon can be fired quickly and continuously. Faster reload and increased accuracy on successive hip-fire damage.
Get one of the best PvP Hand Cannons in the game with full auto!
"This thing is insane. Just feels fun to use. It takes some getting used to, but if you can hit your head shots, you are god."
amazing service, quicker than expected.
The best of the best if caproic is your booster your in good hands!!!
good and quick service as usual. Would choose him again :)))
Another fantastic job by a brilliant booster! Thank you again! 5 stars
Quick and easy fully satisfied
How does the service work
Once you place your order, you will be redirected to your personal Service Dashboard and receive a notification link to your email
Your CarryAssistant chatbot will assign an available booster who suits best for your order within minutes, literally
Booster will join your Dashboard chat and from now on you are in safe hands
No waiting and unnecessary chatting with managers, unless you have any questions
When the order will be finished, you CarryAssistant will notify you immediately via your Dashboard and an email
If you choose Self-Play option, your booster will plan the service according to your time schedule
We don't use any programs or cheats during boosts. All services are done by hands
If you have questions
Feel free to ask any questions in our chat. We are glad to help you, and our Squad will always find you the best service and the deadliest gun for your Guardian!