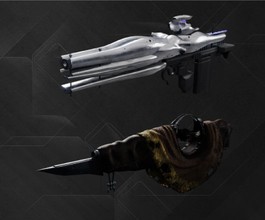 86 completed
Rewards
The rarest and the most powerful Raid Exotics in the game with a sweet discount! The ultimate and devastating tools for any loadout and activity. You will enjoy the game even more and will be the desired Guardian for any fireteam.
King's Fall
Touch of Malice

Perks
Kinetic Primary Scout Rifle
The final round in the magazine deals bonus damage and then regenerates itself.
Rapidly defeating three targets restores health. Precision hits drain combatants' life force and charge up a ball of darkness.

Vow of the Disciple

Collective Obligation

Perks

Void Primary Pulse Rifle
This weapon leeches Void debuffs when damaging targets that are suppressed, weakened, or volatile.

Once charged, damage from this weapon applies the same Void debuffs that were leeched.
Weapon automatically reloads when you gain Devour, a Void overshield, or become invisible.

Vault of Glass

Vex Mythoclast

Perks

Solar Primary Fusion Rifle
This weapon fires a single bolt with each trigger pull. Defeating targets builds stacks of Overcharge.

Swap firing modes when fully Overcharged to charge up and fire more powerful linear fusion shots."
Deep Stone Crypt
Eyes of Tomorrow

Perks

Solar Heavy Rocket Launcher
This weapon is capable of tracking and firing at multiple targets simultaneously.

Killing four or more combatants in a single volley increases the damage of the next volley.
Garden of Salvation
Divinity

Perks
Arc Special Trace Rifle
Sustained damage with this weapon envelops the target in a field that weakens and disrupts them.
Last Wish
One Thousand Voices

Perks

Solar Heavy Fusion Rifle
Charging this weapon unleashes a giant continuous beam of death. The beam superheats its targets upon impact, causing delayed explosions.
Description
Finish off your Collection today with this exclusive bundle!
Each exotic you select will increase your discount totaling at 20% for all Exotics from each of the six raids.
Great service, fast, and communicative.
Great job by xHimuraKenshin. Stuck it out for 4 weeks.
I got fast, easy, and secure service for my guardians. I will be coming back to get more carries on things I just don't have time for.
Great and fast service. Lord was very helpful and was able to complete my order with few hours. Will be looking forward to work with him again.
Caproic is amazing to work with. Very dedicated to completing an order. Looking forward to working with them again.
How does the service work
Once you place your order, you will be redirected to your personal Service Dashboard and receive a notification link to your email
Your CarryAssistant chatbot will assign an available booster who suits best for your order within minutes, literally
Booster will join your Dashboard chat and from now on you are in safe hands
No waiting and unnecessary chatting with managers, unless you have any questions
When the order will be finished, you CarryAssistant will notify you immediately via your Dashboard and an email
If you choose Self-Play option, your booster will plan the service according to your time schedule
We don't use any programs or cheats during boosts. All services are done by hands
Requirements
1780+ Power Level. If your character has a lower Power Level please use our fast Power Leveling service

Players MUST have purchased the following expansions to access all raids outside of Vault of Glass/Kings Fall:

Witch Queen: Vow of the Disciple
Beyond Light: Deep Stone Crypt
Foresaken: Last Wish
If you have questions
Feel free to ask any questions in our chat. We are glad to help you, and our Squad will always find you the best service and the deadliest gun for your Guardian!