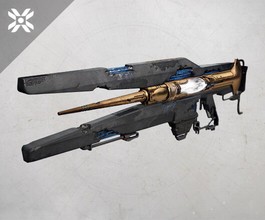 761 completed
Rewards
Divinity Exotic Trace Rifle is one of the most beloved by the community Shadowkeep Exotic gun. The must-have for any Raid or six-man activity in terms of DPS. Its unique Judgment perk disrupts enemies and increases damage from all your teammates. Strong against bosses and Overload Champions.
You'll get:
Divinity Exotic Trace Rifle
Garden of Salvation Raid Completion
Black Garden Raid Gear and Weapons from bosses
Inherent Truth Raid Emblem
Nessus planetary drops and consumables which might drop during the service
Experience for your Season Pass and Artifact level
Description
Divinity is the Exotic trace rifle from the Garden of Salvation raid in D2: Shadowkeep, but there's a lot more to the Divinity quest than getting lucky after the final boss. (You still need to finish the Garden of Salvation raid if you want Divinity.)
Divinity is a powerful tool for raid encounters and big bosses. It adds a debuff to the target that increases all damage that you and your Fireteam members deal. The best part about Divinity is that the debuff is unique, meaning it stacks with other buffs and debuffs like Melting Point or Weapons of Light.
Amazing and fast! UVova was quick, communitive, and friendly! Would highly recommend!
Very fast service! Skilled player with a well organized team.
Everything was perfect. Don't wait, try it.
Thanks will definitely use again!
Sionex7 was super friendly, quick and efficient. Plan to request him for future services and I highly recommend carrysquad to anyone needing help!
Pretty impressive time ty!
How does the service work
Once you place your order, you will be redirected to your personal Service Dashboard and receive a notification link to your email
Your CarryAssistant chatbot will assign an available booster who suits best for your order within minutes, literally
Booster will join your Dashboard chat and from now on you are in safe hands
No waiting and unnecessary chatting with managers, unless you have any questions
When the order will be finished, you CarryAssistant will notify you immediately via your Dashboard and an email
If you choose Self-Play option, your booster will plan the service according to your time schedule
We don't use any programs or cheats during boosts. All services are done by hands
Requirements
920+ Power level. If your character has a lower Power Level please use our fast Power Leveling service
Shadowkeep Campaign completed
If you have questions
Feel free to ask any questions in our chat. We are glad to help you, and our Squad will always find you the best service and the deadliest gun for your Guardian!