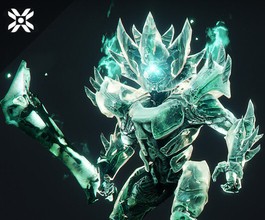 157 completed
Rewards
Introduced in the Shadowkeep expansion Nightmare Hunts allows you to experience famous boss battles from D1 and D2 and get Legendary Rewards.
Our team will defeat old D1 bosses for you to upgrade your Magnificent Solstice Gauntlets and get Pinnacle Gear Reward, Dreambane Armor, and Legendary Shadowkeep weapons.
You'll get:
Nightmare Hunt completion on the selected difficulty

Magnificent Solstice Gauntlets upgrade

Legendary Shadowkeep weapons or Dreambane Armor (depend on this week's Hunt)

Insanity - Love and Death Grenade Launcher
Rage - One Small Step Shotgun
Servitude - Dream Breaker Fusion Rifle
Pride - Dreambane Helmet
Isolation - Dreambane Gauntlets
Fear - Dreambane Chest Piece
Anguish - Dreambane Leg Armor
Despair - Dreambane Class Item

XP for your Season Pass and Artifact
Description
With the release of Shadowkeep, a new mode called Nightmare Hunts was added in D2. In this mode, players get to slay old bosses from D1 and D2 – Crota, Omnigul, Phogoth, Ghaul, Fanatic, Skolas, and Taniks. Get rewards (weapons and armor pieces) from different Nightmare Hunts. There are a total of 8 Nightmare Hunts in D2. See list below of Nightmare Hunts, rewards, and their bosses.
Insanity Rage Servitude Pride Isolation Fear Anguish Despair
Wow I ordered a second time great service they go above and beyond they gave good advice and recommended things that I needed that would help my character
All i can say is this site has the best boosters!! Will allways use them
How does the service work
Once you place your order, you will be redirected to your personal Service Dashboard and receive a notification link to your email
Your CarryAssistant chatbot will assign an available booster who suits best for your order within minutes, literally
Booster will join your Dashboard chat and from now on you are in safe hands
No waiting and unnecessary chatting with managers, unless you have any questions
When the order will be finished, you CarryAssistant will notify you immediately via your Dashboard and an email
If you choose Self-Play option, your booster will plan the service according to your time schedule
We don't use any programs or cheats during boosts. All services are done by hands
Requirements
Power Level depending on difficulty. If your character has a lower Power Level please use our fast Power Leveling service
Shadowkeep Campaign completed
If you have questions
Feel free to ask any questions in our chat. We are glad to help you, and our Squad will always find you the best service and the deadliest gun for your Guardian!