MMXX Moments of Triumph Seal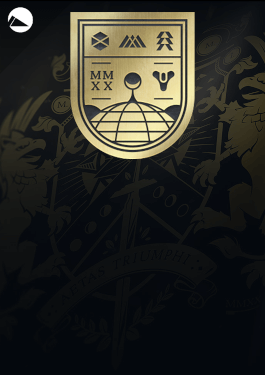 73 completed
Rewards
Raid Ring and Emblem Triumph Rewards
Resurrecting Flight Exotic Sparrow (Reward: Sparrow Triumph)
Accolades on Accolades Triumph Emblem (Reward: Emblem Triumph)
No Power In The Verse Can Stop Me Emblem
Unlocked Raid Ring for purchase at the Bungie Store
Raids Completed:

Leviathan, Eater of Worlds, Spire of Stars, Crown of Sorrow, Scourge of the Past

Contender's Shell Exotic Ghost
Luxurious Toast Exotic Emote
Embrace His Name emblem
Unique Leviathan Gear and Weapons
Chance to get an Exotic
Emperor Calus tokens to level up Emperor reputation 12 Emperors Envy Emblem
Eater of Worlds Raid Gear
Spire Star Emblem
Unique Gear and Weapons from Spire of Stars
Cabal-themed Shadow Raid Armor
Chance to get Tarrabah Exotic Energy Submachine Gun
Black Armory Raid Gear
Recovered Memories Raid Emblem
Chance to get Anarchy powerful Grenade Launcher
A huge pack of Triumph and Raid Shaders:

Calus's Selected, Calus's Treasured, Calus's Elite, Calus's Preferred, Praetorian Visage, Calus's Shadow, Imperial Opulence, Imperial Dress, Midnight Smith
Bungie Triumph Shirt Rewards
Fifteen Seal Triumphs completed
Moments of Triumph T-Shirt Unlocked for purchase at the Bungie Store
Awakened Shell Exotic ghost
Resurrecting Flight Exotic Sparrow
Accolades on Accolades Triumph Emblem
Loot and Rewards from 15 Seal Triumphs
Ghost Triumph Rewards
Ten Seal Triumphs completed
Awakened Shell Exotic ghost
Resurrecting Flight Exotic Sparrow
Accolades on Accolades Triumph Emblem
Loot and Rewards from 10 Seal Triumphs
Sparrow Triumph Rewards
Five Seal Triumphs completed
Resurrecting Flight Exotic Sparrow
Accolades on Accolades Triumph Emblem
Loot and Rewards from 5 Seal Triumphs
Gun for Hire Triumph
15 Bounties completed
Challenger Triumph
10 Weekly Challenges completed
For the Vanguard Triumph
20 Strikes Completed
Ordeal or No Deal Triumph
20 Ordeal Strikes Completed
Season of Arrivals: Valor Legend
2000 Lend Valor Rank
Crucible Weapons and Gear
Trials Victories
7 matches won in the Trials of Osiris
3 Powerful Trials Weapons
A chance to get a unique Lantern Shell Trials Exotic Ghost
A chance to get a unique Resurrection's Guide Trials Exotic Sparrow
Trials Tokens
K1 Discovered Triumph
4 Moon's Lost Sector Completed
Moon Planetary drops
All gear and rewards that might drop during this service
Garden of Salvation Triumph
Garden of Salvation Raid completion
Pinnacle Gear Rewards (once per week)
Powerful Raid Gear and Weapons
Inherent Truth Raid Emblem
Experience for your Season Pass and Artifact level
Destroyer of Heretics
Moon Dreambane Armor (RNG-based)
Masterworked Pinnacle Dreambane Armor Piece (one per week)
New Altars of Sorrow Weapons (RNG-based)
Chance to get dungeon specific Premonition Pulse Rifle
Chance to get dungeon specific Bane of Tyrants Ship
Sanguine Static Emblem
Prophecy Complete Triumph
Pinnacle Armor Piece (one per week)
Daito Moonfang Armor
New Prophecy Weapons
Chance to get IKELOS Shotgun
XP for your Season Pass and Artifact
Interference: Clear the Air
Supplicant to Savathûn defeated
Altered Element
Exotic Arsenal Triumph
Witherhoard Exotic Grenade Launcher
Ruinous Effigy Exotic Rifle
Traveler's Chosen Exotic Sidearm
Means to an End Pinnacle Reward
Interference mission completed
Io, Titan, Mars, and Mercury planetary Drops
Infamy Rank points and Gambit rewards
Pyramidion Strike completed
Heroic Adventures Rewards
Savathûn's Song, a Garden World and Tree of Probabilities Strikes completed
Escalation Protocol drops
The Majesty of It Triumph
Full Magnificent Legendary Solstice Armor set
Above and Beyond Triumph
Glow on any Solstice of Heroes Magnificent Armor piece
Sionex7 was doing a great job
quick as expected but I guess that's why I come back XD
Comparing how fast he is to something about as far as I am in bed and that's fast!
He did a great job, and was able to get me a rare exotic in the process free of charge. Happy Guly recommend him.
Amazing got everything done in a timely matter and had great manners!
Great communication and fast reply and helpful
Did an amazing job. Amd went above and beyond
How does the service work
Once you place your order, you will be redirected to your personal Service Dashboard and receive a notification link to your email
Your CarryAssistant chatbot will assign an available booster who suits best for your order within minutes, literally
Booster will join your Dashboard chat and from now on you are in safe hands
No waiting and unnecessary chatting with managers, unless you have any questions
When the order will be finished, you CarryAssistant will notify you immediately via your Dashboard and an email
If you choose Self-Play option, your booster will plan the service according to your time schedule
We don't use any programs or cheats during boosts. All services are done by hands
Requirements
If you have questions
Feel free to ask any questions in our chat. We are glad to help you, and our Squad will always find you the best service and the deadliest gun for your Guardian!