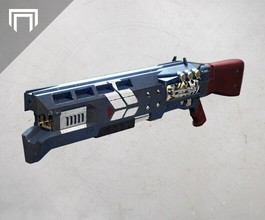 167 completed
Rewards
Legend of Acrius Exotic shotgun
Ornament
Normal and Prestige Leviathan completed
Description
Thanks to its primary Intrinsic Perk, Shock Blast, this Exotic Power Arc Shotgun fires blasts of high-damage Arc energy that over-penetrate enemies. It's a Shotgun that goes in the Power Weapon Slot, which is unusual, but it has a little bit more range than your average Shotgun and a very useful second Intrinsic Perk, Long March, which lets the player detect enemies on their Radar from further away. It needs to reload
Fast and professional as always, my booster was great.
Quick, efficient, and did great work. Would recommend again!
Absolutely amazing, fast and very reliable
Amazing service will recommend
My carrier is so amazing. I think this is my seventh carry from this carrier and they get it done so fast and they are very efficient! Great communication and super nice. Love the service.
Quick effective service, will definitely be using these guys again
I had the pleasure of linking up with eXept Hyperionz for my order and they are awesome, courteous, and prompt. Keep up the good work!!!
Very quick and solid service!
Timely service, friendly client and fun to watch.
How does the service work
Once you place your order, you will be redirected to your personal Service Dashboard and receive a notification link to your email
Your CarryAssistant chatbot will assign an available booster who suits best for your order within minutes, literally
Booster will join your Dashboard chat and from now on you are in safe hands
No waiting and unnecessary chatting with managers, unless you have any questions
When the order will be finished, you CarryAssistant will notify you immediately via your Dashboard and an email
If you choose Self-Play option, your booster will plan the service according to your time schedule
We don't use any programs or cheats during boosts. All services are done by hands
If you have questions
Feel free to ask any questions in our chat. We are glad to help you, and our Squad will always find you the best service and the deadliest gun for your Guardian!