Heist Battlegrounds Activity Farm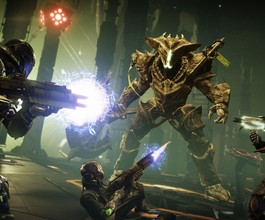 50 completed
Description
Heist Battlegrounds is a new game mode in the video game Destiny 2. It is a cooperative multiplayer activity that tasks players with working together to complete challenging objectives and defeat powerful enemies.
In the "Heist Battlegrounds" mode, players must team up and travel to various locations in the game's universe, where they will encounter a variety of challenges and obstacles. These challenges can include defeating waves of enemies, completing complex puzzles, and facing off against powerful bosses.
To succeed in the "Heist Battlegrounds" mode, players must work together as a team, using their unique abilities and weapons to overcome the challenges that stand in their way. Successfully completing the mode will reward players with powerful gear and rewards, and will also unlock new challenges and content for them to enjoy.
Professional and fast! Great team to work with!
Thanks carrysquad completed my raid bundle
The booster was fast and professional
How does the service work
Once you place your order, you will be redirected to your personal Service Dashboard and receive a notification link to your email
Your CarryAssistant chatbot will assign an available booster who suits best for your order within minutes, literally
Booster will join your Dashboard chat and from now on you are in safe hands
No waiting and unnecessary chatting with managers, unless you have any questions
When the order will be finished, you CarryAssistant will notify you immediately via your Dashboard and an email
If you choose Self-Play option, your booster will plan the service according to your time schedule
We don't use any programs or cheats during boosts. All services are done by hands
If you have questions
Feel free to ask any questions in our chat. We are glad to help you, and our Squad will always find you the best service and the deadliest gun for your Guardian!