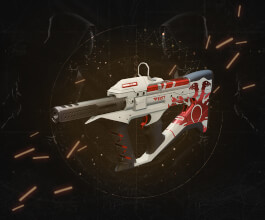 295 completed
Rewards
The Recluse Legendary SMG
Fabled Glory rank
Legendary Crucible Gear and Weapons
Crucible Tokens
Requirements
Access to the Competitive Playlist
Quest From The Mouth of Babes.
How we work
— Once you place your order, professional booster will be assigned for you and you will have a chat with him on website
— When the order will be finished, you will be notified immediately via website chat and email
— We don't use any programs or bots. All services are done by professionals
Description
The Recluse is a Season 6 (Season of The Drifter) Crucible Pinnacle Weapon given out by Lord Shaxx in The Tower. It's a lightweight submachine gun with Void ammo, so it takes the secondary energy weapon slot in your loadout. With Master of Arms activated, the Recluse has one of the fastest time-to-kill rates in the entire game.
Great fast service done super quick and easy
Roger is the best! Can't thank him enough. Will definitely be back again.
The best!! Can't get anymore professional than this!! Will definitely be using again!
Roger was amazing & very efficient. He was very friendly and communicated in a professional manner, he provided a steady stream of updates but not spam level. He completed everything above & beyond expectations. I would recommend and use him again for my future boosts.
Booster Phiv is the best. We run out of medals for Phiv. Polite and quick. Just what Lord Shaxx needed.
Thank you HotSauna for the amazing work over the last few hours. You are amazing!
Reaction was my booster and he was amazing! This service is the easiest and fastest I've worked with. Look no further for your D2 carry!
This was amazing - so happy I did it. Was slightly sceptical but the booster was amazing and really fast with communicating - this was done within 2 hours. Will definitely use again if there's another thing I can't do!
second time ive ordered with NikitaDreemurr, great service again and always friendly
Had booster Ozzie help me out with the recluse. The dude was super cool to chat with and a PVP LEJUND. Will be sure to use his services again!