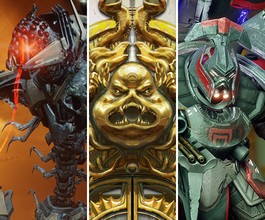 105 completed
Rewards
The Spire of Stars, Eater of Worlds, and Leviathan Raids in one pack with a 10% discount! Get a lot of original D2 Raid Armor and Weapons, redeemable Tokens, vanity items, and various consumables.
You'll get:
Leviathan Raid
NORMAL
Legendary Raid Weapons
Normal mode Armor
Belly of the Beast Achievement
Embrace His Name Emblem
Calus's Selected Shaders
Emperor Calus Tokens
PRESTIGE
Legendary Raid Weapons
Emperor's Champion Prestige Armor
The Prestige Achievement
Glory to the Emperor Emblem (gives Aura when equipped)
Emperor Calus Tokens
Chance to get an Exotic
Eater of Worlds
NORMAL
2 Legendary Raid Rewards
Calus's Elite Shader
Calus Tokens
Emperors Envy Emblem
PRESTIGE
Eater of Worlds Prestige Ornament progression
A chance at the Telesto Catalyst
Calus's Preferred Shader
Calus Tokens
Covetous Emperor Emblem
Chance to get an Exotic
Spire of Stars
NORMAL
Normal mode Armor
Legendary Raid Weapons
A chance to get Emperor's Envy fusion rifle
Praetorian Visage Shader
I'm Open Emote
Calus Tokens
Spire Star Emblem
PRESTIGE
Additional Random Raid Weapon
Normal mode Armor
Legendary Raid Weapons
Prestige Praetorian Ornament progression
A chance at the Sleeper Simulant Catalyst
Calus's Shadow Shader
Calus Tokens
Chance to get an Exotic
Good Job on the Thing and raids.
My booster was terrific. I would recommend this service to anyone.
Great service once again thx to booster Lord
Awesome help again and fast. Lord booster is very helpful.
Service was quick and great!
Wow, very very fast service. Ordered the year 1 raid prestige package and the weekly whisper catalyst quest and it got done incredibly fast. loving the fast service to help me out when I don't have time to do the big multiplayer things like raids. keep up the great work!
How does the service work
Once you place your order, you will be redirected to your personal Service Dashboard and receive a notification link to your email
Your CarryAssistant chatbot will assign an available booster who suits best for your order within minutes, literally
Booster will join your Dashboard chat and from now on you are in safe hands
No waiting and unnecessary chatting with managers, unless you have any questions
When the order will be finished, you CarryAssistant will notify you immediately via your Dashboard and an email
If you choose Self-Play option, your booster will plan the service according to your time schedule
We don't use any programs or cheats during boosts. All services are done by hands
Requirements
750+ Power level. If your character has a lower Power Level please use our fast Power Leveling service
D2 original campaign completed
If you have questions
Feel free to ask any questions in our chat. We are glad to help you, and our Squad will always find you the best service and the deadliest gun for your Guardian!