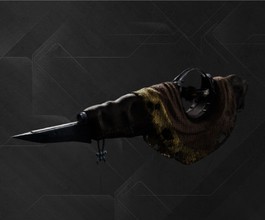 44 completed
Rewards
Touch of Malice Exotic Scout Rifle Guaranteed
Pinnacle Vault of Glass Raid Armor (RNG-based)
Pinnacle Raid Weapons (RNG-based)
Description
First introduced in The Taken King expansion in D1, Guardians will once again dive into the Dreadnaught, Oryx's flagship to battle the Taken King himself.
Heralded and contentiously debated as Destiny's best raid, King's Fall also brings back an old favorite; Touch of Malice (TOM) the Exotic Kinetic Scout Rifle, will also be making a return to the reprisal foray.
The main Exotic perk of TOM is "Touch of Malice", which causes final rounds to drain the user's life force in exchange for bonus damage. The intrinsic perk is "Charged with Blight", which causes precision hits to drain enemy life force and charge up a ball of darkness, which can fire via an alternate weapon action and blinds targets.
King's Fall's is currently live and free to play for all Destiny 2 players. Guardians can access the raid by going to their Destinations tab and clicking on "Legends".
Super awesome. Fast professional and courteous to my time
Awesome service. xHimuraKenshin is great. Will definitely use again.
Pete, is incredible booster!!
Insanely fast always good
Well done and fast as always.
Mrwaffles is one of the best here!
Great job. He worked weeks for me trying to get this weapon to fall. Great communication. Every week sent me a status update. Highly recommend this guy.
How does the service work
Once you place your order, you will be redirected to your personal Service Dashboard and receive a notification link to your email
Your CarryAssistant chatbot will assign an available booster who suits best for your order within minutes, literally
Booster will join your Dashboard chat and from now on you are in safe hands
No waiting and unnecessary chatting with managers, unless you have any questions
When the order will be finished, you CarryAssistant will notify you immediately via your Dashboard and an email
If you choose Self-Play option, your booster will plan the service according to your time schedule
We don't use any programs or cheats during boosts. All services are done by hands
Requirements
If you have questions
Feel free to ask any questions in our chat. We are glad to help you, and our Squad will always find you the best service and the deadliest gun for your Guardian!