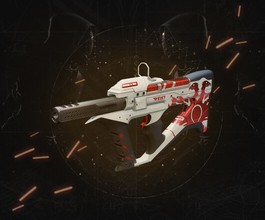 331 completed
Rewards
The Recluse Legendary SMG
Fabled Glory rank
Legendary Crucible Gear and Weapons
Crucible Tokens
Description
The Recluse is a Season 6 (Season of The Drifter) Crucible Pinnacle Weapon given out by Lord Shaxx in The Tower. It's a lightweight submachine gun with Void ammo, so it takes the secondary energy weapon slot in your loadout. With Master of Arms activated, the Recluse has one of the fastest time-to-kill rates in the entire game.
skater is awesome, Super quick
Excellent service, fast and reliable
very friendly and quick, great service!
really appreciated the work of tnucyy, did a fantastic job with the order. Will come back to purchase more orders
first booster had some wifi problems however problem was resolved quickly and by the time i woke up I had recluse! 10/10 would recommend
Quick and reliable as always!!
Got me recluse in a crazy fast amount of time, Also bonus points for being a great guy
How does the service work
Once you place your order, you will be redirected to your personal Service Dashboard and receive a notification link to your email
Your CarryAssistant chatbot will assign an available booster who suits best for your order within minutes, literally
Booster will join your Dashboard chat and from now on you are in safe hands
No waiting and unnecessary chatting with managers, unless you have any questions
When the order will be finished, you CarryAssistant will notify you immediately via your Dashboard and an email
If you choose Self-Play option, your booster will plan the service according to your time schedule
We don't use any programs or cheats during boosts. All services are done by hands
Requirements
Access to the Competitive Playlist
Quest From The Mouth of Babes.
If you have questions
Feel free to ask any questions in our chat. We are glad to help you, and our Squad will always find you the best service and the deadliest gun for your Guardian!