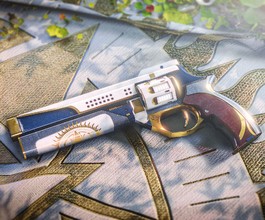 8 completed
Rewards
Something New Hand Cannon
Progress Rewards
Glimmer
XP
Silver Leaves
Vestiges of Dread
Possible Rewards
PvE God Roll

Barrel: Arrowhead Break, Corkscrew Rifling.
Magazine: Ricochet Rounds, Extended Magazine.
PvE Trait 1: Feeding Frenzy, Triple Tap, Wellspring.
PvE Trait 2: Demolitionist, Headstone.
PvP God Roll

Barrel: (Same as above).
Magazine: Trade out Extended Mag for Appended Mag here, as you're only losing one extra bullet in the gun without tanking the Something New's reload speed.
PvP Trait 1: Wellspring, Tunnel Vision.
PvP Trait 2: Demolitionist, Multikill Clip.
Description
Acquire the coveted Kinetic hand cannon, Something New. Our skilled team will ensure a seamless process as they obtain this powerful weapon, allowing you to dominate your enemies.
How does the service work
Once you place your order, you will be redirected to your personal Service Dashboard and receive a notification link to your email
Your CarryAssistant chatbot will assign an available booster who suits best for your order within minutes, literally
Booster will join your Dashboard chat and from now on you are in safe hands
No waiting and unnecessary chatting with managers, unless you have any questions
When the order will be finished, you CarryAssistant will notify you immediately via your Dashboard and an email
If you choose Self-Play option, your booster will plan the service according to your time schedule
We don't use any programs or cheats during boosts. All services are done by hands
If you have questions
Feel free to ask any questions in our chat. We are glad to help you, and our Squad will always find you the best service and the deadliest gun for your Guardian!