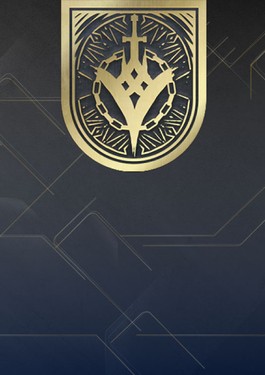 42 completed
Rewards
Progress Rewards
Glimmer
XP
Seasonal Artifact Bonus
Treasure Coordinates (Seasonal Currency)
Possible Rewards
Doom of Chelchis Void Scout Rifle
Qullim's Terminus Stasis Machine Gun
Smite of Merain Kinetic Pulse Rifle
Defiance of Yasmin Kinetic Sniper Rifle
Midha's Reckoning Arc Fusion Rifle
Zaouli's Bane Solar Hand Cannon
Touch of Malice Exotic Kinetic Scout Rifle**
Darkhollow Suit Armor Set for Hunter
War Numen's Suit Armor Set for Titan
Worm God Suit Armor Set for Warlock
Triumph Rewards
Ossein Earthcarver Exotic Sparrow
Ossified Skycarver Exotic Ship
King's Fall Raid Emblem
"Ancient Wisdom" Shader
Description
First introduced in The Taken King expansion in D1, Guardians will once again dive into the Dreadnaught, Oryx's flagship to battle the Taken King himself.
Heralded and contentiously debated as Destiny's best raid, King's Fall also brings the ability to gain a new Seal and Title. "Kingslayer" is the title associated with the raid and can be achieved by completing 21 different Triumphs.
King's Fall's is currently live and free to play for all Destiny 2 players. Guardians can access the raid by going to their Destinations tab and clicking on "Legends".
Professional and fast recommended 👍🏼
Excellent, quick, friendly
Timka236 is the greatest when it comes to anything on here!
great work once again by carry squad. have had about a dozen orders with them with never a issue. from pvp to end game pvp great work each time.
Debe was amazing and completed most of the seal challenges for me! Definitely would recommend again!
The carrier was nice and he did an amazing job.
How does the service work
Once you place your order, you will be redirected to your personal Service Dashboard and receive a notification link to your email
Your CarryAssistant chatbot will assign an available booster who suits best for your order within minutes, literally
Booster will join your Dashboard chat and from now on you are in safe hands
No waiting and unnecessary chatting with managers, unless you have any questions
When the order will be finished, you CarryAssistant will notify you immediately via your Dashboard and an email
If you choose Self-Play option, your booster will plan the service according to your time schedule
We don't use any programs or cheats during boosts. All services are done by hands
Requirements
If you have questions
Feel free to ask any questions in our chat. We are glad to help you, and our Squad will always find you the best service and the deadliest gun for your Guardian!