PsiOps Battlegrounds Activity Farm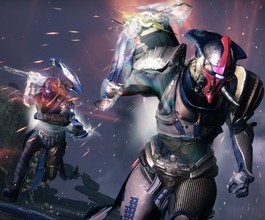 71 completed
Rewards
Seasonal Armor
Seasonal Weapons
Risen Umbral Energy
Psychogenic Intel
Glimmer
XP
Select Seasonal Challenge completions
Description
Continue the fight against the Lucent Hive via Season of the Risen's new three-player activity: PsiOps Battlegrounds!
Engage in a new age of psychic warfare as you continue the shaky alliance between Empress Caiatl and the Guardians.
Hunt down the Lucent Hive that are praying on Guardians and their Light, and weaken their leader enough to enable Empress Caiatl's Psions to capture and conduct psychic studies on the Hive's minds.
The intel received post-capture will shed more light on what Savathun's brood is up to and how best to stop it.
Upon completing the activity, two chests will spawn; one that can be opened for free that can give you Legendary drops, and one that requires 500 Psychogenic Intel to open.
Psychogenic Intel is acquired through the completion of other playlist activities and the process can be expedited by wearing seasonal armor.
This chest will reward you with seasonal gear such as weapons and armor, and upgrades in the H.E.L.M at the War Table can increase the quality of rewards gained. It is also the source for Risen Umbral Energy, the seasonal currency needed to focus Umbral Engrams in the H.E.L.M.
Absolutely wonderful service!!
Amazing work and even adjusted my order to make it work. Went above and beyond
How does the service work
Once you place your order, you will be redirected to your personal Service Dashboard and receive a notification link to your email
Your CarryAssistant chatbot will assign an available booster who suits best for your order within minutes, literally
Booster will join your Dashboard chat and from now on you are in safe hands
No waiting and unnecessary chatting with managers, unless you have any questions
When the order will be finished, you CarryAssistant will notify you immediately via your Dashboard and an email
If you choose Self-Play option, your booster will plan the service according to your time schedule
We don't use any programs or cheats during boosts. All services are done by hands
Requirements
Players MUST have purchased the Season Pass in order to access the activity

1400 Power Level.
If you have questions
Feel free to ask any questions in our chat. We are glad to help you, and our Squad will always find you the best service and the deadliest gun for your Guardian!