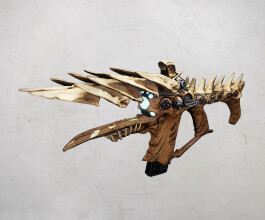 32 completed
Rewards
Guaranteed 1k Voices Exotic Fusion Rifle
How does the boost work
Once you place your order, you will be redirected to your personal Service Dashboard and receive a notification link to your email
Your CarryAssistant chatbot will assign an available booster who suits best for your order within minutes, literally
Booster will join your Dashboard chat and from now on you are in safe hands
No waiting and unnecessary chatting with managers, unless you have any questions
When the order will be finished, you CarryAssistant will notify you immediately via your Dashboard and an email
If you choose Self-Play option, your booster will plan the service according to your time schedule
We don't use any programs or cheats during boosts. All services are done by hands
Requirements
If you have questions
Feel free to ask any questions in our chat. We are glad to help you, and our Squad will always find you the best service and the deadliest gun for your Guardian!
Description
One Thousand Voices is an exotic Fusion Rifle introduced in the Forsaken expansion for Destiny 2. Firing this weapon lays a trail of fire, which can detonate and damage nearby enemies. The explosions can also damage and kill the wielder if they stand too close. The One Thousand Voices can be obtained as a rare drop from the final chests in the Last Wish raid.
"An absolute beast in any mode. Great for Invasions in Gambit due to the AOE explosions. You can just spray and get a couple kills easy."
Crisp clean fast service!
Super grateful and super quick to get the order completed
once again, carrysquad and renegade took the time i didnt have in my busy schedule to keep me where I needed to be
NOT ONLY DID HE GET ME THE THOUSAND VOICES I ALSO MADE A WONDERFUL FRIEND AN THAT'S HOW IT SHOULD BE THANK YOU LOPEN312
Awesome! Absolutely awesome! Will definitely be returning.
Awesome service. No complaints. Very reliable.
Amazing service. Great to work with.
Always amazing service! Great people! A+++...Never let you down
UVova is amazing. Always provides an excellent service and goes above and beyond what you would expect.