Seasonal of the Lost: Seasonal Weekly Challenges Week 4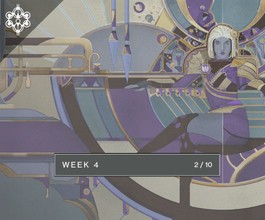 10 completed
Rewards
Wayfinder's Voyage IV
Challenger XP++ (50,000 XP)

Wayfinder's Compass Calibration Level

Astral Telemetry II

Challenger XP+ (25,000 XP)

Astral Telemetry Authority

Challenger XP (5,000 XP)

Wayfinder's Compass Calibration Level

Trials of the Tinker

Challenger XP+++ (100,000 XP)

Bright Dust

Ley Line Mysteries

Challenger XP+ (25,000 XP)

Wayfinder's Compass Calibration Level

Entertain Lord Shaxx

Challenger XP+ (25,000 XP)

Bright Dust

High-Value Hunter

Challenger XP+++ (100,000 XP)

Bright Dust

Precision Calibration

Challenger XP++ (50,000 XP)

Bright Dust

Vanguard Chosen

Challenger XP++ (50,000 XP)
Bright Dust
Nightfall Weapon
Description
The 15th and final season of D2's Beyond Light DLC is now live bringing a new story and new challenges.
Continuing the trend that Bungie rolled out in Season of the Chosen, Weekly Bounties have now been replaced with Seasonal Weekly Challenges. With this new structure, Guardians are granted access to a new set of weekly challenges every Tuesday reset that will remain active and attainable until the end of the Season.
Throughout Season of the Lost, players can expect ten weeks of challenges that range from activities as simple as patrols on the Moon to high-level completions such as Grandmaster Nightfalls. Completing these weekly challenges grants Guardians the opportunity to rank up on their Season Passes, gain Bright Dust, and the ability obtain certain exclusive weapons!
Additionally, Bungie has made it possible to still access and complete Seasonal Weekly Challenges all the way back to Season of the Chosen.
Make sure to check your Quest tab to find all current and past weekly challenges!
How does the service work
Once you place your order, you will be redirected to your personal Service Dashboard and receive a notification link to your email
Your CarryAssistant chatbot will assign an available booster who suits best for your order within minutes, literally
Booster will join your Dashboard chat and from now on you are in safe hands
No waiting and unnecessary chatting with managers, unless you have any questions
When the order will be finished, you CarryAssistant will notify you immediately via your Dashboard and an email
If you choose Self-Play option, your booster will plan the service according to your time schedule
We don't use any programs or cheats during boosts. All services are done by hands
Requirements
Current Season Pass or Current Season: Season 15

Astral Authority

Must have a Trace Rifle on Account

Entertain Lord Shaxx

Showdown must currently be live that week in the Crucible

Vanguard Chosen

Must have the Campaign/Expansion associated with that week's Nightfall

Must meet the following Nightfall Power Level Requirements

Adept Difficulty: 1250
Hero Difficulty: 1290
Legend Difficulty: 1320
Master Difficulty: 1350
Grandmaster Difficulty: 1345

Precision Calibration

Must have either of the following on Account:

Scout Rifle
Sniper Rifle
Linear Fusion Rifle

Trials of the Tinker

Requires at least 4 weeks as the Artifact mods cycle weekly.
If you have questions
Feel free to ask any questions in our chat. We are glad to help you, and our Squad will always find you the best service and the deadliest gun for your Guardian!