Festival of the Lost: Haunted Lost Sector Clears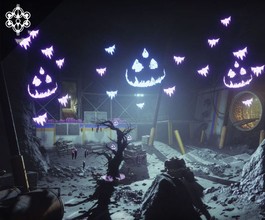 14 completed
Rewards
Base Rewards
Candy
Glimmer
Bright Dust
XP
Progress towards Festival of the Lost Triumphs
Progress towards Festival of the Lost Bounties (If applicable)
Weapons
Possible Weapon Drops (NOT Guaranteed)
Jurassic Green Pulse Rifle
Horror Story Auto Rifle
BrayTech Werewolf Auto Rifle
Description
Destiny 2's annual Halloween event has returned in 2022 and is now in full swing. Festival of the Lost kicked off on October 18th and brought many new goodies in its treat bag.
Just like last year, Guardians will need to complete ritual playlist activities and Haunted Lost Sectors to earn Spectral Pages and defeat the Headless Ones mini-bosses to earn Event progress. Each defeated mini-boss transforms one of the Spectral Pages into a Manifested Page which is then used to unlock lore and rewards.
Complete the lore book and unlock all the rewards to earn the new Ghost Writer seal and show off your spooky flair.
Festival of the Lost will run from October 18th, 2022 - November 8th, 2022.
Awesome, fast and friendly. 100% recommended
How does the service work
Once you place your order, you will be redirected to your personal Service Dashboard and receive a notification link to your email
Your CarryAssistant chatbot will assign an available booster who suits best for your order within minutes, literally
Booster will join your Dashboard chat and from now on you are in safe hands
No waiting and unnecessary chatting with managers, unless you have any questions
When the order will be finished, you CarryAssistant will notify you immediately via your Dashboard and an email
If you choose Self-Play option, your booster will plan the service according to your time schedule
We don't use any programs or cheats during boosts. All services are done by hands
Requirements
New Players
Must Escape the Cosmodrome to unlock the Tower
All Players
Must speak to Eva Levante in the Tower Courtyard to receive and complete the "Gone But Not Forgotten" quest. Once completed Guardians will be granted access to explore Haunted Lost Sectors and earn Festival of the Lost rewards.
If you have questions
Feel free to ask any questions in our chat. We are glad to help you, and our Squad will always find you the best service and the deadliest gun for your Guardian!