Dead Messenger Catalyst Masterwork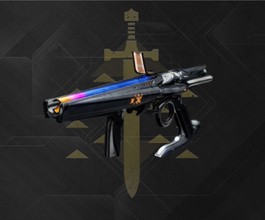 35 completed
Description
Being hailed as the Hard Light of Exotic Grenade Launchers, Dead Messenger is definitely an Exotic worth grinding for in Year 5.
Thanks to The Fundamentals Trait, Guardians can cycle through Solar, Arc, and Void damage types just by hitting the reload button. With the added perk of the Trinary Vision Intrinsic Trait, Dead Messenger can shoot three waves of either of the three main damage types.
Guardians can acquire this weapon by completing the "Kill the Messenger" Exotic Weapon Quest. Upon acquiring Dead Messenger, players can then access its Exotic Catalyst by completing the Vox Obscura mission on Master difficulty.
The Season Pass for Season of the Risen is required in order to unlock the Exotic Quest for Dead Messenger.
SKATER RULES AS ALWAYS!!!!
This is by far the most capable and fastest responding carry service around. I put in my request and the mission was done in one hour from the time I put in my request. They are the Premier carry service, so if you are looking for a squad to get stuff done and get it done quickly, use Carry Squad!!! 👍👍👍👍👍 ⭐️⭐️⭐️⭐️⭐️+++. Thank you guys 05/23/22
Super job Lord is a super booster. Thanks
How does the service work
Once you place your order, you will be redirected to your personal Service Dashboard and receive a notification link to your email
Your CarryAssistant chatbot will assign an available booster who suits best for your order within minutes, literally
Booster will join your Dashboard chat and from now on you are in safe hands
No waiting and unnecessary chatting with managers, unless you have any questions
When the order will be finished, you CarryAssistant will notify you immediately via your Dashboard and an email
If you choose Self-Play option, your booster will plan the service according to your time schedule
We don't use any programs or cheats during boosts. All services are done by hands
Requirements
1560+ Power Level. If your character has a lower Power Level please use our fast Power Leveling service
Season Pass for Season of the Risen is required. Purchases on one platform enables it for cross-play on all platforms you play on.
If you have questions
Feel free to ask any questions in our chat. We are glad to help you, and our Squad will always find you the best service and the deadliest gun for your Guardian!