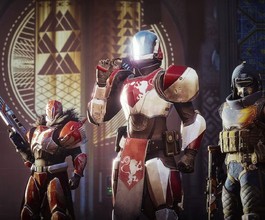 30 completed
Description
Competitive Placements is an activity in the video game Destiny 2 that allows players to compete against each other in ranked matches. The activity is part of the game's competitive multiplayer mode, known as the Crucible, and it is designed to test players' skills and abilities in fast-paced and intense combat.
In the "Competitive Placements" activity, players are matched against each other based on their skill level, and they must compete in a series of matches to earn points and advance through the ranks. The matches are intense and challenging, and players must use their weapons, abilities, and teamwork to outmaneuver and defeat their opponents.
The "Competitive Placements" activity is a great way for players to test their skills and compete against other players from around the world. It is a high-stakes and exciting activity that offers rewards and recognition for players who can rise to the challenge and emerge victorious.
Fast and great to talk to
How does the service work
Once you place your order, you will be redirected to your personal Service Dashboard and receive a notification link to your email
Your CarryAssistant chatbot will assign an available booster who suits best for your order within minutes, literally
Booster will join your Dashboard chat and from now on you are in safe hands
No waiting and unnecessary chatting with managers, unless you have any questions
When the order will be finished, you CarryAssistant will notify you immediately via your Dashboard and an email
If you choose Self-Play option, your booster will plan the service according to your time schedule
We don't use any programs or cheats during boosts. All services are done by hands
If you have questions
Feel free to ask any questions in our chat. We are glad to help you, and our Squad will always find you the best service and the deadliest gun for your Guardian!