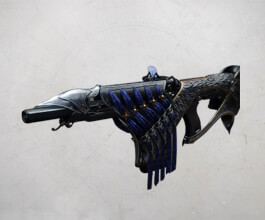 41 completed
Rewards
Bastion Exotic Fusion Rifle
Requirements
All Saint-14 Quests finished
Devil's Ruin Sidearm acquired
900+ Power Level
Completed the Completing an Impossible Task quest from Saint-14
Unlocked Corridors of Time
Shadowkeep DLC and Season of the Dawn Season Pass
How we work
— Once you place your order, professional booster will be assigned for you and you will have a chat with him on website
— When the order will be finished, you will be notified immediately via website chat and email
— We don't use any programs or bots. All services are done by professionals
Description
Complete a series of quests to acquire this Exotic Fusion Rifle!
Speak with Saint-14 in the Tower
Collect 5 Fallen Intel in the Tangled Shore
Speak with Spider
Confront Aksiniks, Bound by Honor in Thieves Landing.
Kill 30 Challenging enemies, Complete 10 Spider bounties and Complete 8 Public Events.
Investigate the Grave in the lost sector the Trapper's Cave.
Defeat Reysk, the Waning Light in The Hollowed Lair, Memento strike.
Speak with Saint-14 to complete the quest and acquire Bastion.
"It kills at 18m, and it's a cracked anti-shotgun killer. Ive been pairing it with Luna's as an energy but will keep trying other energies. It shoots 3 times. Imagine like Cerberus but with a charge time."
Professional & Finished everything in a timely manner
Always super fast, super friendly, and I love how informed I was the whole time.
Caproic is amazing! Hands down, the best!
Always good service from Carrysquad. Keeps me coming back
Was super helpful and went over and Beyond my expectations!
Awesome service - quick and efficient
I am always happy with service I get have used them 15 times and love it
xHimuraKenshin, was the best!