Ruinous Effigy Exotic Rifle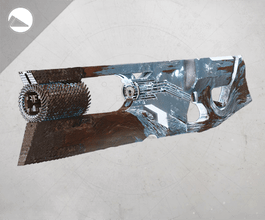 71 completed
Rewards
D2 Missive Exotic Quest is finally available along with a special Year 3 gun. This brand new Trace Rifle has two unique exotic perks Transmutation and Evolution. With final blows with this gun, you can transform enemies into void transmutation spheres. Sounds cool, but the coolest part is that anyone in your team can grab these spheres and use them as weapons. They have light attacks, heavy attacks, and can guard/drain nearby combatants.
You'll get:
Ruinous Effigy Exotic Trace Rifle
Means to an End Pinnacle Reward
Interference mission on Io completed
Io, Titan, Mars, and Mercury planetary Drops
Infamy Rank points and Gambit rewards
Masterworked Ruinous Effigy Catalyst (additional option)
Chance to get another Exotic
XP for your Season Pass
Amazing! We finally did it! Thank you Fresco, great great work!
Danya was very quick and efficient. In under an hour he had my order filled and ready for me to rock with my new exotic. Strongly recommend.
Was really fast in 5 hours I got everything I recommend
Skater is great super chill, and just a great person. 15/10
Quick and efficient. Top notch as always
AJ was fast, courteous, and completed all the tasks! Will definitely use again!
Excellent job. Very quick and did the job about 100 times faster than me. Thank you so much.
How does the service work
Once you place your order, you will be redirected to your personal Service Dashboard and receive a notification link to your email
Your CarryAssistant chatbot will assign an available booster who suits best for your order within minutes, literally
Booster will join your Dashboard chat and from now on you are in safe hands
No waiting and unnecessary chatting with managers, unless you have any questions
When the order will be finished, you CarryAssistant will notify you immediately via your Dashboard and an email
If you choose Self-Play option, your booster will plan the service according to your time schedule
We don't use any programs or cheats during boosts. All services are done by hands
Requirements
If you have questions
Feel free to ask any questions in our chat. We are glad to help you, and our Squad will always find you the best service and the deadliest gun for your Guardian!