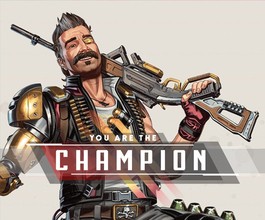 95 completed
Rewards
The desired number of wins
XP for your account level
Apex Packs acquired during the boost
Legend tokens per level
Description
Tired of newbies squadmates in Apex Legends that drag you down and prevent your squad from winning games? That's a common situation in every Season. To get matched up with skilled players you have to get those wins and it's frustrating sometimes to get them alone.
CarrySquad Win Boosting Service is a great solution to have more wins and improve your matchmaking and gameplay experience. With our help, you will achieve any desired wins count, get more kills, and raise your account level. You will see how your how much better your gaming experience will be with worthy squadmates.
Fantastic run, no issues . Would use again
Great service got what I wanted right away!
Highly recommend Sanyatotem!! Very fast and won 15/16 games played..absolutely insane.
I highly recommend Noobteamretard he's very nice and highly skilled..dude got me 10 wins in a short amount of time
Great service don't have much time to play. Great feeling to have my stats up. Would recommend this service to anyone.
How does the service work
Once you place your order, you will be redirected to your personal Service Dashboard and receive a notification link to your email
Your CarryAssistant chatbot will assign an available booster who suits best for your order within minutes, literally
Booster will join your Dashboard chat and from now on you are in safe hands
No waiting and unnecessary chatting with managers, unless you have any questions
When the order will be finished, you CarryAssistant will notify you immediately via your Dashboard and an email
If you choose Self-Play option, your booster will plan the service according to your time schedule
We don't use any programs or cheats during boosts. All services are done by hands
If you have questions
Feel free to ask any questions in our chat. We are glad to help you, and our Squad will always find you the best service and the deadliest gun for your Guardian!