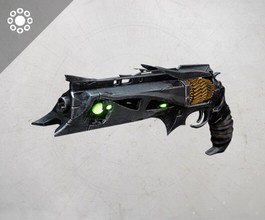 266 completed
Description
Thorn is a revamped Exotic Hand Cannon from the original D1. Its new perk Soul Devourer has made it even more lethal, granting a partial reload and a small damage boost whenever you grab the green orbs generated on kills, and it's still got the power you'd expect of a Weapon of Sorrow.
Thorn is also an essential part of a few big chapters of D2 lore, so you'll definitely want to acquire Thorn. To get it, you'll need to do an Exotic quest called Independent Study.
Isolate is efficient, friendly and as always super helpful 10/10 would recommend using him
I had an exotic quest that required a ton of PVP, which I don't play. I reached out to CarrySquad and not only did they offer this quest, they allow you to choose what level of progress is needed. I already had the first 3 steps completed, so I was only charged for the steps that I needed done. The process was very secure and personal. I had my own private chat with my booster Defeat and he jumped on and got the job done Immediately. Will definitely use them again.
You can't say enough good things about Eject. Always choose him.
it was fun playing with uvova and learning mechanics and strategy
Once again Skater was insane. super quick and reliable 15/10
Fast, easy and friendly as always
Great service, excellent runner
absolutely amazing. Thank you so much
How does the service work
Once you place your order, you will be redirected to your personal Service Dashboard and receive a notification link to your email
Your CarryAssistant chatbot will assign an available booster who suits best for your order within minutes, literally
Booster will join your Dashboard chat and from now on you are in safe hands
No waiting and unnecessary chatting with managers, unless you have any questions
When the order will be finished, you CarryAssistant will notify you immediately via your Dashboard and an email
If you choose Self-Play option, your booster will plan the service according to your time schedule
We don't use any programs or cheats during boosts. All services are done by hands
Requirements
Annual Pass
Minimum 600+ Power Level
If you have questions
Feel free to ask any questions in our chat. We are glad to help you, and our Squad will always find you the best service and the deadliest gun for your Guardian!