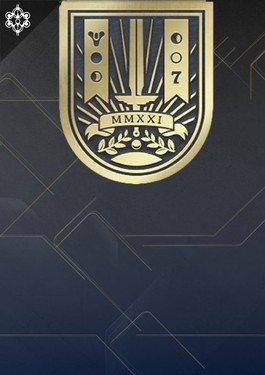 34 completed
Rewards
Triumph Apprentice – Attain a moderate Triumph score of 10,000.

Triumph Master – Attain a high Triumph score of 15,000 to earn a special emblem.

Vault of Glass – Complete any version of the Vault of Glass raid.

Wrathender – Complete the Coup de Grace mission.

Path of the Chosen – Complete all Seasonal storyline quests.

Walk the True Path – Complete all eight Paths of the Splicer quests.

Seeker of the Lost – Complete Wayfinder's Voyage, Parts I – VII.

Strike Spelunker – Defeat 300 combatants in playlist strikes with any Seasonal Quest weapon: Adored, Salvager's Salvo, Null Composure, or Ascendancy.

Gambit Gauntlet – Defeat 200 targets in Gambit with any Seasonal Quest weapon: Adored, Salvager's Salvo, Null Composure, or Ascendancy. Bonus progress for defeating opposing Guardians.

Crucible Contract – Defeat 50 Guardians in Crucible with any Seasonal Quest weapon: Adored, Salvager's Salvo, Null Composure, or Ascendancy.

Trials Wins – Win seven rounds in the Trials of Osiris.

Ordeal – Complete 20 Nightfall strikes. Bonus progress for higher-difficulty strikes.

Taskmaster – Complete 50 bounties.

Repeat Winner – Defeat final bosses in Dares of Eternity.

Daring Displays – Complete Starhorse bounties. Weekly and Legend-difficulty Starhorse bounties grant additional progress.

Special Guest Scar – Ultra Plasmic Shader

Lost Sector Master – Complete one Lost Sector on Master difficulty.

Beyond Light – Chapter 3 – Eramis awaits within the walls of Riis-Reborn. Hunt her down.

Seasoned in Darkness – Collect four Stasis Aspects and six Stasis Fragments.

Europa Hunting Party – Complete 20 Empire Hunts. Bonus progress for higher-difficulty hunts.

Deep Stone Crypt – Complete the Deep Stone Crypt raid.

Talon of Light – Complete the exotic quest Let Loose Thy Talons.

Graven Tales – Uncover the Dead Man's Tale.

Devotee's Remnant – Reefborn Warbird Exotic Ship

30th Exotics – Claim both Gjallarhorn and Forerunner from the Bungie 30th Anniversary Pack.

Grasp of Avarice Complete – Dungeon emblem

Repeat Winner – "Anniversary Pose" Exotic Emote
Great communication, very fast service, thanks!
Excellent work by the booster again. Love this service.
Xperia Hyperionz did a great job
Quick and fast service. My booster got on the account with 45 minutes and knocked everything out. Very professional communication and service. I will definitely be using caproic again.
How does the service work
Once you place your order, you will be redirected to your personal Service Dashboard and receive a notification link to your email
Your CarryAssistant chatbot will assign an available booster who suits best for your order within minutes, literally
Booster will join your Dashboard chat and from now on you are in safe hands
No waiting and unnecessary chatting with managers, unless you have any questions
When the order will be finished, you CarryAssistant will notify you immediately via your Dashboard and an email
If you choose Self-Play option, your booster will plan the service according to your time schedule
We don't use any programs or cheats during boosts. All services are done by hands
Requirements
Triumph Requirements
Reward: Emblem -Complete a Triumph

Reward: Fractic Spiral Sparrow

Reward: Elegant Guard Shell

T-Shirt Unlocked at Bungie Store

Triumph Apprentice – Attain a moderate Triumph score of 10,000.

Triumph Master – Attain a high Triumph score of 15,000 to earn a special emblem.

Vault of Glass – Complete any version of the Vault of Glass raid.

Wrathender – Complete the Coup de Grace mission.

Path of the Chosen – Complete all Seasonal storyline quests.

Walk the True Path – Complete all eight Paths of the Splicer quests.

Seeker of the Lost – Complete Wayfinder's Voyage, Parts I – VII.

Strike Spelunker – Defeat 300 combatants in playlist strikes with any Seasonal - Quest weapon:

Adored
Salvager's Salvo
Null Composure
Ascendancy.

Gambit Gauntlet – Defeat 200 targets in Gambit with any Seasonal Quest weapon: Adored, Salvager's Salvo, Null Composure, or Ascendancy. Bonus progress for defeating opposing Guardians.

Crucible Contract – Defeat 50 Guardians in Crucible with any Seasonal Quest weapon: Adored, Salvager's Salvo, Null Composure, or Ascendancy.

Trials Wins – Win seven rounds in the Trials of Osiris.
Ordeal – Complete 20 Nightfall strikes. Bonus progress for higher-difficulty strikes.
Taskmaster – Complete 50 bounties.

Repeat Winner – Defeat final bosses in Dares of Eternity.
Daring Displays – Complete Starhorse bounties. Weekly and Legend-difficulty Starhorse bounties grant additional progress.
Special Guest Star – Defeat Xur's Chosen in the Lightning Round.
Lost Sector Master – Complete one Lost Sector on Master difficulty.
Beyond Light – Chapter 3 – Eramis awaits within the walls of Riis-Reborn. Hunt her down.
Seasoned in Darkness – Collect four Stasis Aspects and six Stasis Fragments.
Europa Hunting Party – Complete 20 Empire Hunts. Bonus progress for higher-difficulty hunts.
Deep Stone Crypt – Complete the Deep Stone Crypt raid.

Talon of Light – Complete the exotic quest Let Loose Thy Talons.

Graven Tales – Uncover the Dead Man's Tale.
Devotee's Remnant – Complete the catalyst for Ager's Scepter.
30th Exotics – Claim both Gjallarhorn and Forerunner from the Bungie 30th Anniversary Pack.

Grasp of Avarice Complete – Complete the Grasp of Avarice dungeon.

Repeat Winner – Defeat final bosses in Dares of Eternity
If you have questions
Feel free to ask any questions in our chat. We are glad to help you, and our Squad will always find you the best service and the deadliest gun for your Guardian!