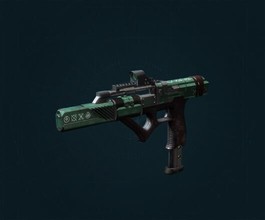 47 completed
Rewards
Exit Strategy Gambit Ritual Submachine Gun
Description
D2's Season of the Undying introduces new Ritual Weapons that you can earn from three major vendors. See The Drifter and get The Exit Strategy SMG.
"If you don't got one, it's time to make one." —The Drifter
Wonderful service. Fast, friendly, very helpful. Cant imagine going anywhere else!
Awesome! 5 Stars! Will definitely be using again.
Trasheon got my order done double quick
I have contracted HotSauna many times now, and from day one, he has been an absolute joy. He has gone above and beyond when completing my orders, I've been fussy and probably a pain, but he powered on through, and has been so pleasant to chat to throughout. If anyone else is lucky enough to get this booster, then you have undoubtably the best booster on the site. That's a fact. Above. And. BEYOND.
Vel Tarlowe saved me a heap of time and frustration. Very professional.
Rellzcrime killed off my order in record time and went above and beyond by completing extra bounties along the way. Highly recommended booster.
Professional and very helpful and friendly. Very safe. Mr Orious is an excellent booster. If you get them you're in good hands
Excellent work. Professional and fast. 10/10 recommend
How does the service work
Once you place your order, you will be redirected to your personal Service Dashboard and receive a notification link to your email
Your CarryAssistant chatbot will assign an available booster who suits best for your order within minutes, literally
Booster will join your Dashboard chat and from now on you are in safe hands
No waiting and unnecessary chatting with managers, unless you have any questions
When the order will be finished, you CarryAssistant will notify you immediately via your Dashboard and an email
If you choose Self-Play option, your booster will plan the service according to your time schedule
We don't use any programs or cheats during boosts. All services are done by hands
Requirements
750+ Power Level
Ghosting Quest
If you have questions
Feel free to ask any questions in our chat. We are glad to help you, and our Squad will always find you the best service and the deadliest gun for your Guardian!