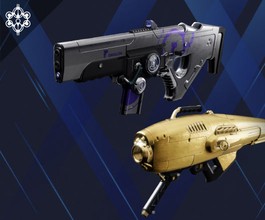 75 completed
Rewards
This Order does not guarantee a specific nightfall weapon since there are 2 dropping at the same time, and it instead guarantees a drop of at least one of the 2 weapons shown per drop
Nightfall weapons are on a 4 week rotation. It might take up to 3 weekly resets for the order to be completed.
Desired amount of Adept Hung Jury Scout Rifles, and Hothead Rocket Launchers.
Exotic Armor
Ascendant Shard(s)
Enhancement prisms
Any extra rewards and progression gained while completing order
Description
This Order does not guarantee a specific nightfall weapon since there are 2 dropping at the same time, and it instead guarantees a drop of at least one of the 2 weapons shown per drop
Reaction is a really cool dude and gets the job done fast! Also communicates very well! Highly recommend Reaction!
Got done very quick and was very kind and respectful!
Did my grandmasters fast thanks liam
Sionex7 always goes above and beyond! Highly recommend for the great service!
fast and friendly, was able to hop in within just a few minutes of me placing the order.
Well worth the money. Highly recommended for those who dont get the time to play.
How does the service work
Once you place your order, you will be redirected to your personal Service Dashboard and receive a notification link to your email
Your CarryAssistant chatbot will assign an available booster who suits best for your order within minutes, literally
Booster will join your Dashboard chat and from now on you are in safe hands
No waiting and unnecessary chatting with managers, unless you have any questions
When the order will be finished, you CarryAssistant will notify you immediately via your Dashboard and an email
If you choose Self-Play option, your booster will plan the service according to your time schedule
We don't use any programs or cheats during boosts. All services are done by hands
Requirements
If you have questions
Feel free to ask any questions in our chat. We are glad to help you, and our Squad will always find you the best service and the deadliest gun for your Guardian!