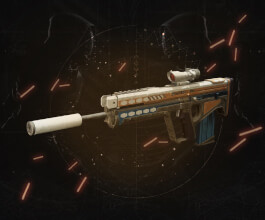 185 completed
Rewards
Randy's Throwing Knife Crucible Ritual Scout Rifle
Fabled Glory rank
Requirements
750+ Power Level
Reconnaissance By Fire quest
How we work
— Once you place your order, professional booster will be assigned for you and you will have a chat with him on website
— When the order will be finished, you will be notified immediately via website chat and email
— We don't use any programs or bots. All services are done by professionals
Description
Randy's Throwing Knife is a kinetic scout rifle that was added as a Crucible Ritual Weapon with Season of the Undying (along with the other two weapons). The actual quest for this weapon requires you to complete the following objectives:
Enemies defeated and medals: 14,000
Glory earned: 2,100
Scout Rifle Final blows: 450
"On me, team; I'm capturing the third point!" —Randy, upon receiving orders not to
Absolutely amazing booster service from UVova, he did everything asked of him with amazing speed and had plenty of patience when I was working with the team to complete some of the quests. Highly recommend Uvova and carry squad. Thank you!!
Carry Squad never disappoints. Dudes are on point. Expect your boost to be done fast, safe and efficiently
Caproic was pretty quick with getting my randys. He was polite and pretty professional. Would recommend him for anybody who needs their stuff done.
Once again UVova did my order quickly. Highly recommended. Thank you.
Absolute legend. Did what would take me a month in less than 24 hours.
The process was very simple and speedy! Roger did a great job!
Knocked out a ton of pvp in a few hours. Real top tier service.
Getting some of these ritual and pinnacle weapons can be a long grind. Had bezon1q3 finish my order in just a couple of hours. Highly recommend the team at Carrysquad. Would have definitely taken me at least a week. Thank you!
Amazed at how fast Carrysquad got my order completed. Placed it before bed, woke up to see what would have taken me days done overnight! Don't hesitate, if you are in a pinch and really need something done, give these pros a try. Thank you!!!
i had ILLUMATEX a true top tier pvp player big thumbs up for this guy !