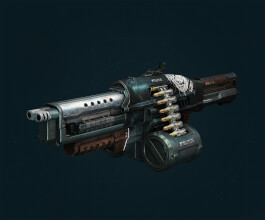 96 completed
Rewards
Pinnacle Machinegun from Gambit
Legendary Gambit Gear and Weapons
How we work
— Once you place your order, professional booster will be assigned for you and you will have a chat with him on website
— When the order will be finished, you will be notified immediately via website chat and email
— We don't use any programs or bots. All services are done by professionals
Description
A Legendary Machine Gun, more kills increases this weapon's damage until it is stowed or reloaded.
"Budget Thunderlord. Great for those that want an arc MG without taking up an exotic slot, or those unfortunate enough to not have Thunderlord already."
Great service and very quick. Would highly recommend!
Amazing service, kept me informed the entire time!
Boost was super fast and Ethvzn was talking to me the whole way through the process.
Thank you will use this service again, and again
So happy I found Carry Squad. So much cheaper, faster, friendlier and communicative than the other boosters (I've used 5). It's not even close, seriously.
He was willing to work with my schedule and answered my questions in a few minutes he did an excellent job